Intel Processors Comparison Pentium, Atom, Celeron, i3, i5, i7, i9, Xeon:- How to choose a good processor? i3, i5, i7, i9, Xeon, Celeron, Pentium, Atom. In this article, we will understand the different processors used in laptops and desktops.
Laptop processors are generally power efficient and have low TDP which made them good for students and for office purposes. If you want a high-end laptop especially for gaming video editing or software designing then you should know which processor is good for these tasks.
There is a difference between laptop and desktop processors. The desktop processors are much more powerful than a regular laptop processor. The desktop processor has higher TDP than a laptop which makes them more power consumer and more power consumption made them more powerful.
Almost every laptop' today has AMD or Intel's processor but which is best? Actually among both the processor making companies Intel is little ahead in the market as Intel's processors are far more powerful than AMD. But AMD is also catching up on the market as with the release of Ryzen CPUs.
Currently, AMD Ryzen 3 generation and high-end Threadripper is giving very tough competition to Intel. Due to this Intel lost huge market share which directly benefited AMD.
We see lots and lot's of the processor from Intel these days mainly the smart series- i3 /i5/ i7/i9. When we see different model it's quite confusing such as i5 6200u, i5 7200u or i9 9900k we can't differentiate between these as all look similar and identical.
Let's understand a few meanings before comparison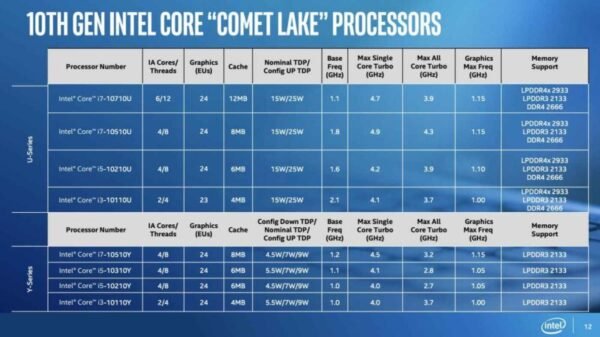 U: Ultra-Low Power. The U rating is only for laptop processors. These draw less power and are better for the battery. Example:- i7 7500u, i5 8250u, etc
Y: Low Power. Typically found on older generation laptops and mobile processors. Example:- m3 8100Y, i5 8200Y, i7 8500Y etc.
T: Power Optimized for desktop processors. Example:- i5 7500T, i5 7400T, i3 7300T, i3 7100T etc.
Q: Quad-Core. The Q rating is only for processors with four physical cores. Example:- i7 7700HQ, i5 7300HQ etc.
H: High-Performance Graphics. The chipset has one of Intel's better graphics units in it. Example:- i7 7700HQ, i5 7300HQ, i7 8750H etc.
G: Includes Discrete Graphics. Typically found on laptops, this means there is a dedicated GPU with the processor. Example:- i7 8705G, etc.
K: Unlocked. This means you can overclock the processor above its rating. Example:- i7 7700k, i7 8700k, i9 9900k, etc.
Which processor to choose?
Intel Processors Comparison i3 vs i5 vs i7 vs i9:-
Intel's most selling as well as best known processors are i3 /i5/ i7/i9. Today most of the devices come with these processors because they are affordable and powerful enough to do day to day tasks.  These processors are best in terms of everything. They give the best performance and fulfill our needs whether it is gaming, editing or designing, these processors do their job quite efficiently. These processors usually come in all categories such as dual-core, quad-core, Hexa Core, Octa-core, etc. with hyper-threading and turbo boost technology as their main feature.
i3 processor:
i3 is the slowest & cheapest and can be seen on the low-end laptop.
i5 processor:
i5 is middle-class and budget-friendly processor
i7 processor:
i7 is the fastest & costly among all the processors.
i9 processor:
i9 is a new class of Intel CPUs (a rebranded name of high-end Xeon CPU for competing with AMD) which usually began with 8 cores and 16 threads as we have seen in i9 9900k.
Xeon:-
Xeon processors are the very high end and used for animation or for research purposes. These processors have very low battery backup because of higher TDP. But performance-wise they are the best and can perform the very heavy task easily.
Usually, Xeon processors are used in enterprises, servers, where there is large data processing power, is required
Celeron / Pentium:-
This category of processors is found in a very cheap laptop and have low performance. These processors are good for surfing the internet, making a presentation, for typing job, etc.
Atom:-
Atom processors are cheapest processors made by Intel with only up to 2.5 TDP which gives superb battery life. These processors are best for surfing the internet, watching videos, etc. These processors also come in low-to-mid-range smartphones.
Now Let's Understand more Clearly – Intel Processors Comparison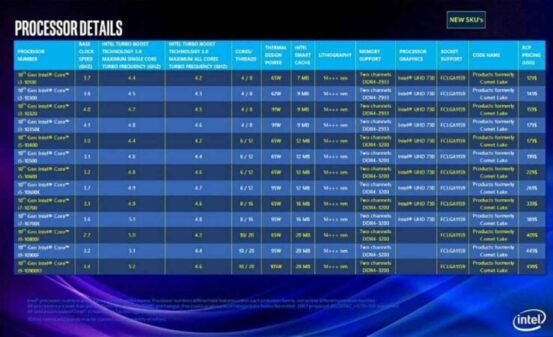 All i9, i7, i5, i3 start out of the same process of building/ Fabrication process. Intel and other silicon manufacturers do have a process to test and classify these into high grade (i7 or i9), Middle Grade (i5) and Entry-level grade (i3 or m3). This process is called binning which is explained below.
Intel has standards for performance, power management and thermal output for its Core i5 CPUs. If a CPU fails to meet those standards, Intel will bin it as an i3 processor instead. However, since Core i5 processors have four cores and i3 processors have two, Intel will disable two (likely defective) cores on the processor in order to sell it as a two-core processor. Thus, it's possible your desktop's i3 processor was meant to be an i5 but failed to meet performance standards, so Intel disabled two of its cores to turn it into an i3.
And vendors may bin-out high-performance components by disabling some of their capabilities and marketing them as lower performance to meet their own supply/demand needs. For instance, if a high-end CPU isn't selling so hot right now, supply would be high. A vendor could disable compute units in some of these high-end CPUs so that they'll fit into the more highly demanded mainstream market and have a better chance of selling.
One should also note that silicon tape-out process also called fabrication is a very expensive process and manufacturers use this binning process to squeeze max possible returns out of these fabricated processors.
Advantages of  Intel Core i7 vs i5
No of cores:- current generation i7's have more physical cores than i5's
Pricing and Market segment:- I&'s are usually intended for the premium market on average about 150 USD more than the middle segment i5's.
Cache Memory:- Core i7 processors have the larger cache (on-board memory) to help the processor deal with repetitive tasks faster. If you're editing and calculating spreadsheets, your CPU shouldn't have to reload the framework where the numbers sit. This info will sit in the cache, so when you change a number, the calculations are almost instantaneous. Larger cache sizes help with multitasking as well, since background tasks will be ready for when you switch focus to another window. On currently available desktop processors, most i5 CPUs have up to 9MB of L3 cache, while most i7 processors have up to 12M
Turbo Boost:- Turbo Boost is an overclocking feature that Intel built into its processors. Essentially, it allows the processor to run faster than its base clock speed when only one or two processor cores are needed (like when you're running a single-threaded task that you want to be done now). Both Core i5 and Core i7 processors use Turbo Boost, with Core i7 processors achieving higher clock speeds
Hyper-Threading:- all Core i7 CPUs use Hyper-Threading, so an eight-core CPU can handle 16 streams, a four-core can handle eight streams, and a dual-core can handle four streams. Core i5 uses Hyper-Threading to make a dual-core CPU act like a four-core one, but if you have a Core i5 processor with four true cores, it won't have Hyper-Threading. My laptop has an i5-8250u, This has 4 physical cores and 4 logical hyperthreading cores.
Integrated Graphics:- You'll find Iris Plus and higher-end Intel HD/UHD graphics on Core i7 CPUs, while Core i5 processors feature one of the myriad versions of Intel HD/UHD graphics, depending on the part number. Integrated graphics save power since there's no extra graphics chip on your laptop or desktop's motherboard using power.
Final Verdict (Intel Processors Comparison)
Intel Processors Comparison:- A CPU or processor is the most important part of a computer (i3, i5, i7, i9,  Xeon, Celeron, Pentium, Atom etc).
Let me clarify that the high-end CPUs (such as i9 9900k) is not for everyone. If you do the basic tasks such as watching videos, listening videos, browsing the web or little gaming then the i3 processor of 7th or even 6th gen would be perfect.
For gamers, according to today's needs, any next-gen CPU which have at least four cores in it is suitable for gaming.
If you are a serious video editor or programmer than only you required a powerful CPU like i7 8700k or i9 9900k.
But the only CPU is not responsible for good performance. With a good CPU, you should have an SSD or a faster hard drive, higher RAM (8GB at least), and a good graphics card with capable PSU. These things boost the speed of the PC and make them faster.
Summary:- Intel Core i5 is made for mainstream users who care about performance, an Intel Core i7 is made for enthusiasts and high-end users. I3 would be for price-sensitive entry-level applications/ needs. Only extreme users need to consider Intel's Core i9-Series -which is a class of processor which is in a market segment above I7 as well.
See Next:- 5 Major Development in Artificial Intelligence (AR, VR, ML, Hardware, Apps)