6. Webinaria (Free & Open Source)
Webinaria is a free open source software for recording and capturing the screen. By using this Software, you will be able to create Flash videos of your computer as well as add your own voice using record feature. This tool also has features like the intersection of text in the videos. Like most of the tool, it also can let you set certain hotkeys.
7. Rylstim Screen Recorder (Free)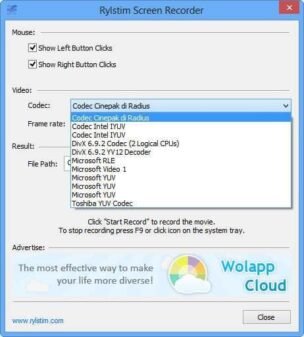 Rylstim Screen Recorder is the simplest tool to record insides of your PC screen. You have to simply install the tool, set the codec, frame rate and location and you are good to go. Rylstim Screen Recorder will give you amazing results once you have finished this recording process. The software also comes in a portable version which you can also download. (Top 10 Best Free Screen Video Recorder Windows 10)
8. Screenr (Free)
It is the eighth and it not like the tools mentioned above as it is bit different. Screenr has nothing to do with PC or installation, but it works based on your web browser. The only thing you have to note that Java has been installed on your Computer. For using go to screenr.com and start your screen recording it is as simple as that.
9. Filmora Scrn Recorder

Filmora is a good screen recorder as it provides a very simple interface yet a nice experience while recording the screen. There are 3 kinds of screen recording for selection, including Full Screen, Custom, and Target Window. If you need to record from microphone or record computer system audio it gives all options. Even you can record games through this powerful screen recorder at 60fps and the best part of this software is that it provides video editor with it.
10. Windows 10 Free screen recorder

Free screen recorder from windows is the best game recording app. This application is only available in win 10. The windows 10 users can use it by simply tapping Windows+G Key. This a very amazing application as it works wonderfully, in this you will get a very simple interface from where you could record your screen in no time.
Conclusion:-
Top 10 Best Free Screen Video Recorder Windows 10:- These are some of the best tool available internet for free grab any one of them and you are good to go. These tools are amazing and every tool has their own specialty. Simply install on your computer and start capturing the screen of your computer.
What is your view on Top 10 Best Free Screen Video Recorder Windows 10?… comment in the comment section down below.
See Next: Top 10 Best PlayStation 4 Games (Play Today)
See Next: 10 Top PSP Games (PPSSPP Android Games) Of All Time
See Next: How To Play PS2 Games in PC (PCSX2 Emulator)
See Next: Smartphone Buying Guide: 13 Tips How to Choose a Smartphone
See Next: 10 Top PC Games (Windows Games) Must Play